Discover more from W.D.C. Journal
A newsletter that breaks down interior design topics each week, discusses different philosophical thoughts on the home, and shares honest and helpful product recommends. Join now to be part of the W Design community.
Over 2,000 subscribers
Get the English Kitchen Look
a lesson in design from across the pond
English kitchens are trending and for good reason—the English have a way of expressing personality and charm (while also feeling timeless) so much better than most Americans and I love that we are incorporating this into our homes and decor. Today we're going to break down what makes something "English" for anyone wanting to create this timeless look for their own kitchen.
---
Layout
English kitchens have an emphasis on function and therefore typically have a furniture-like island and plenty of storage in the form of floor to ceiling pantry cupboards. Another reason that you find furniture-like islands is because of the lack of plumbing that was historically found in old English kitchens, hence the use of a furniture piece as a workspace.
---
---
Oven Range and Hood
Before modern day technology, food was cooked in wood fire brick ovens in the kitchen quarters which is why you'll see mantel range hoods in current English designs. This feature feels a bit more English Cottage but can still be applied in a more English Modern home as well. As for the range itself, you'll see a lot of European ranges, especially the Aga brand as this was founded in the UK. (Read my review of my own Aga Elise Range)
---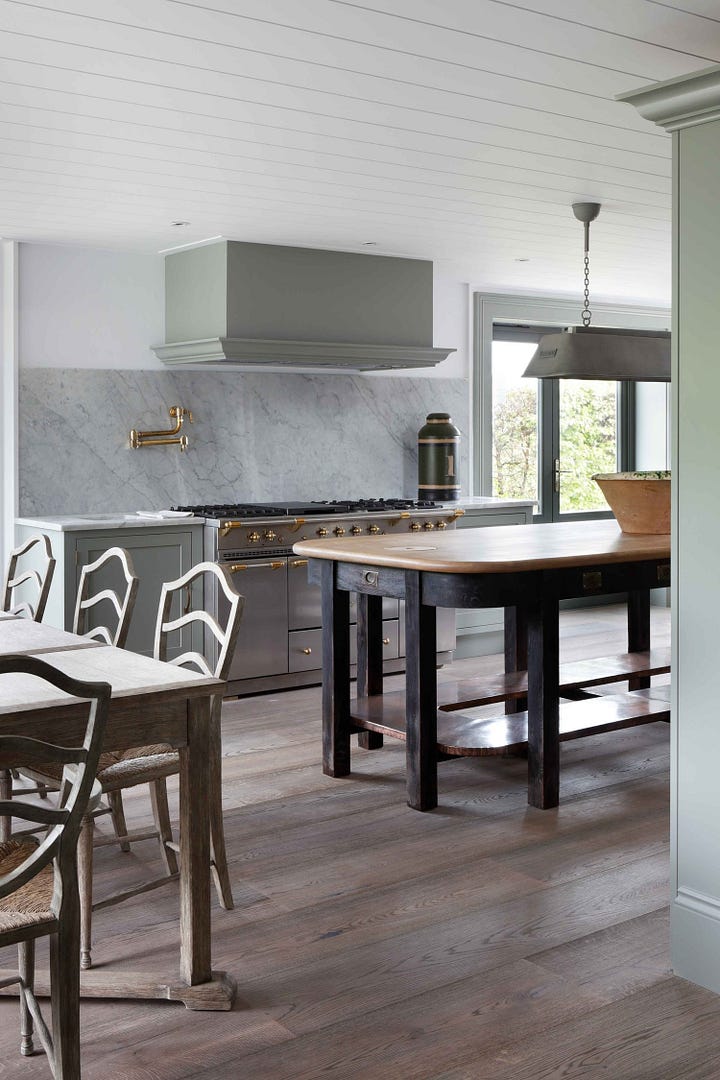 ---
Layering
One word that seems to perfectly describe each English kitchen I see is layered. They layer colors, patterns, materials, finishes, lighting, artwork, and accessories. And the best of them do this all while not feeling too cluttered or too perfect. Instead, their kitchens feel perfectly lived in and authentic. It really is an art and the Brits do it best!
---
---
Hardware
When you are selecting hardware for your English inspired kitchen, look for bin pulls, drop pulls, dainty knobs, and even wood knobs ( you can paint them to go with your cabinetry). It's not uncommon to use a mix of a few where it makes sense as well. Refer to the example images throughout this article for a general idea on placement. I've also noticed many of these kitchen have exposed hinges on their cabinetry which is a pretty detail that really adds to the look.
---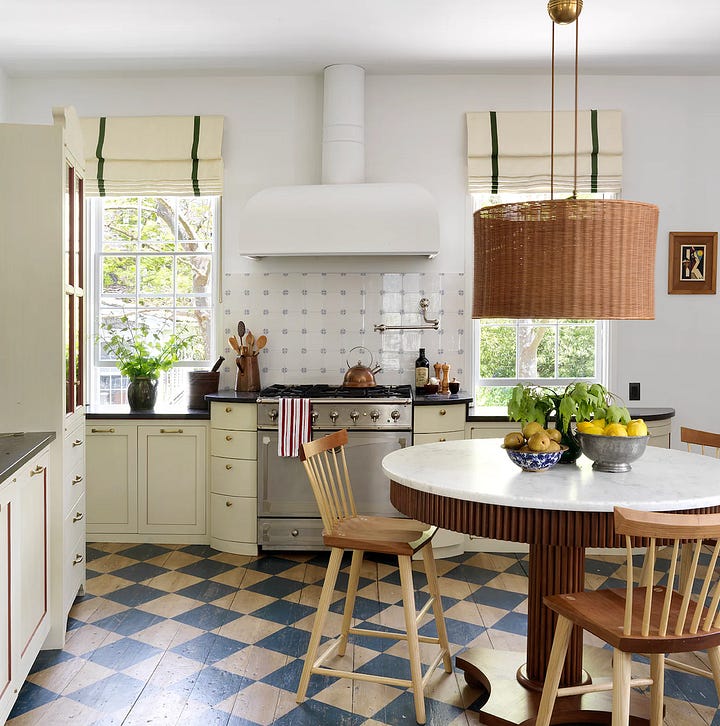 ---
Materials
English kitchens are built to last and therefore consist of lots of natural materials—stone floors, honed marble countertops, butcher block countertops, wood cabinetry, etc. Materials that age with the home seem to be embraced more in England and I think it's because they seem to value character over "perfection" when it comes to their interiors.
---
---
Finishes
When it comes to finishes typically found in English kitchens, you will find lots of brass, but it's not uncommon to find other finishes like polished nickel and aged bronze (usually in a more English country style home). In terms of paint finishes, take a note from the Brits and incorporate more high-gloss finishes on statement pieces like the kitchen island, doors, millwork, etc. It's a simple design choice that doesn't cost any extra money but can make a big impact.
---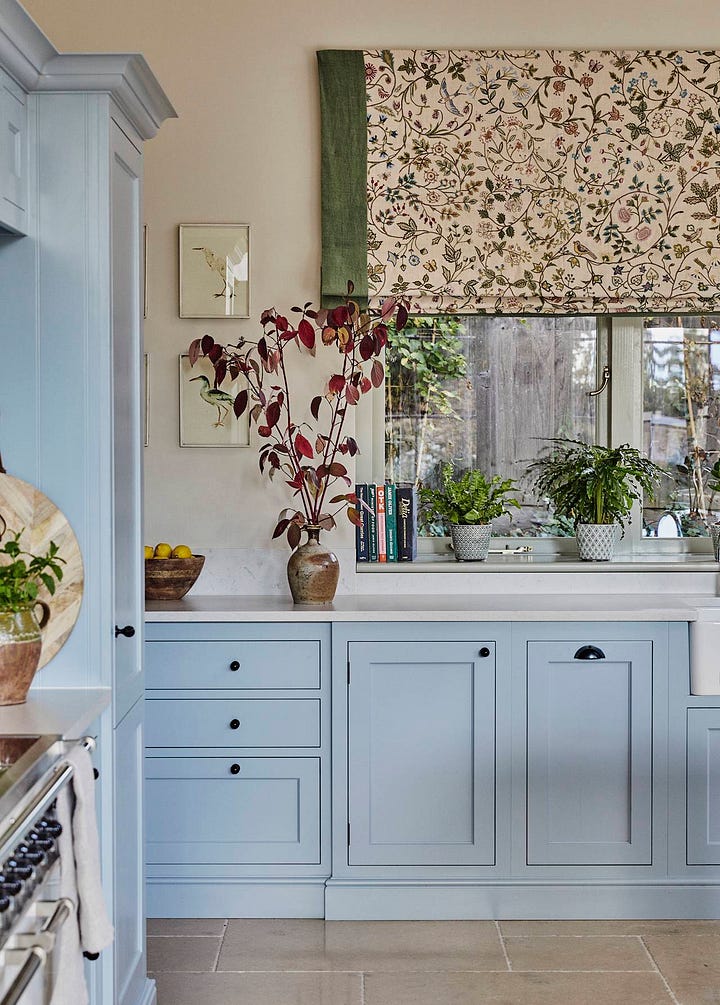 ---
Colors
I love how English designers are not afraid of color! Their color pallets tend to be very natural and earthy—but no color is off limits. These designers have a solid knowledge of color theory and know exactly how to pair different colors together. Look through a Farrow & Ball (UK based paint company) paint deck to get an idea of the tones and color ranges you'll see throughout many English kitchens.
---
---
Here are a few British designers to explore for more inspiration for your English-inspired kitchen:
Thoughts on English kitchens? Share it in the comments - we would love to hear from you!