Timeless Kitchen Hardware
3 different kitchen styles & our favorite sources and finishes
There are so many decisions that need to be made with cabinetry. After you've nailed down the paint color, layout, and style—you also need to specify type of hardware, the finish and the placement. Today we're sharing our favorite sources, finishes, and a guide for typical placements to create a timeless kitchen. Hopefully this will make it a little bit easier for you when it comes time to decide on kitchen hardware.
---
When choosing cabinet hardware, one of the first things you should decide is whether you're using knobs, pulls, or both. We like to use a combination of both knobs and pulls (you usually have to have some of these for your cabinet-front appliances), as well as latches on some cabinetry.
Our Elk Ranch project is an eclectic mountain home and to reflect that, we used a few different styles of hardware. For the island drawers, we used polished nickel bin pulls and placed them near the top for a more contemporary look. On the perimeter drawers we did a pair of painted wood knobs and centered them on the drawer for an overall European look. On all of the appliances we used polished nickel pulls from Rejuvenation (linked above).
---
The Canyon Cove kitchen is a beautiful mix of Modern and Traditional Spanish styles, so the hardware is more clean and minimal. When designing a modern or European kitchen, we love to use small scale knobs—these are 1 1/4" knobs for reference. All of the hardware in this space is from Ashley Norton in their light bronze finish—this brand and finish added the perfect balance of warmth and depth to compliment this kitchen.
---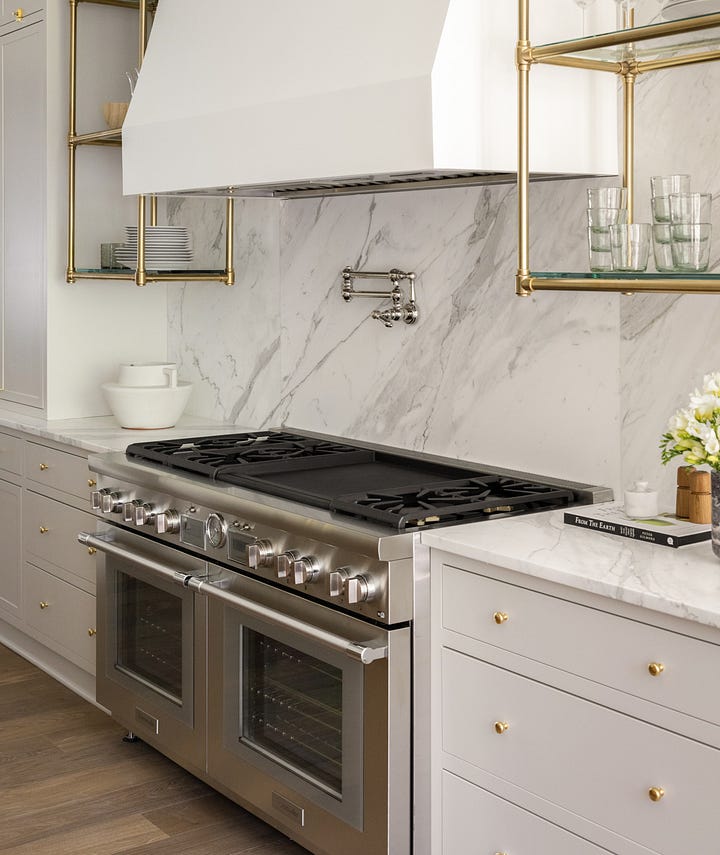 In the Rockingham Tudor kitchen we were going for a more transitional/traditional look so we used unlacquered brass for all the cabinet hardware. We balanced the dainty drawer knobs (these ones are 1" round which is the smallest size we would recommend going) with a more substantial appliance pull to tie in the transitional style of this home.
Something to keep in mind—not all hardware brands carry every type of knob or pull so if you're using multiple brands of hardware, matching the finishes may be tricky. Not all brass finishes appear the same from brand to brand. For example, all the pulls and knobs in this kitchen are from Classic Brass but the cabinet latch is from Rejuvenation (see image below). The finish on these two may be slightly different, but they are both an unlacquered brass, which is a raw, living finish so it should be pretty consistent across brands (and also a reason it's one of our go-to hardware finishes).
Generally, unlaquered brass, black, and polished nickel are the easiest finishes to match across different brands, so if you want to mix hardware, stick with these finishes.
PRO TIP: Source your appliance pulls for your fridge and freezer first. The appliance pulls are the most expensive pieces of cabinet hardware and there aren't as many to choose from, so find one you like, in your price-range and finish and go from there. Countless times I have found cabinet pulls or knobs that I love but they don't have a coordinating appliance pull in the same finish or style and then I have to start over.
---
For more information, this article from Schoolhouse gives a great breakdown of where and how to use different types of cabinet hardware.
Links to specific hardware we use most often:
Keep reading with a 7-day free trial
Subscribe to W.D.C. Journal to keep reading this post and get 7 days of free access to the full post archives.