Discover more from W.D.C. Journal
A newsletter that breaks down interior design topics each week, discusses different philosophical thoughts on the home, and shares honest and helpful product recommends. Join now to be part of the W Design community.
Over 2,000 subscribers
Georgia's Recommends
my staple products and a few fall favorites
👋 Hi! My name is Georgia (@georgiabarnesinteriors)—I am a designer on the W Design team. I'm excited to share a few of my favorite things today! 
---
MZ Wallace Duffel Bag - I originally purchased this duffel for a hospital bag when my baby was born last year. Since then, I have taken it on several trips and now I can't imagine travel without it. The best part—so many pockets!

Birkenstock Boston Clogs - I know that these are either a love or hate. They are a love for me! I purchased last year and they have been an all-year staple. One of my favorite trendier items I have purchased! 

The Ordinary Serums - I swear by these two serums. I put a drop of each in both my morning and evening moisturizer and my skin has never been better! The best combo for anti-aging and extra hydration. I use the Hyaluronic Acid Serum and Multi-Peptide Serum.
---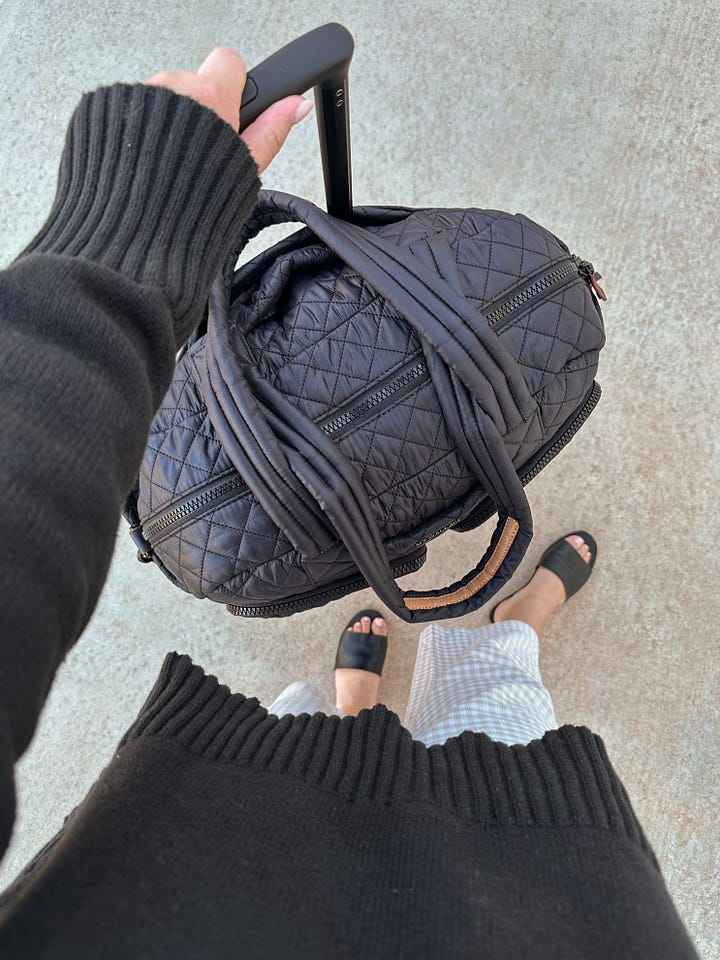 ---
Madewell Hoop Earrings - My favorite earrings right now—a fun twist on the classic gold hoop!

Quince Silk Pillowcase - Swapping my standard pillowcase for a silk one, has changed my skin and hair! So soft and such great quality for the price. 

Everlane Organic Cotton Sweater - This sweater is an office favorite! I purchased the black and I plan to grab it in another color or two for this fall and winter. 

Olive Oil Cake (recipe below) - My most requested dessert to bring to any gathering, is this olive oil cake. So easy and quick to put together—a crowd favorite for sure! I love adding a bit of vanilla bean paste along with a splash of almond extract.
---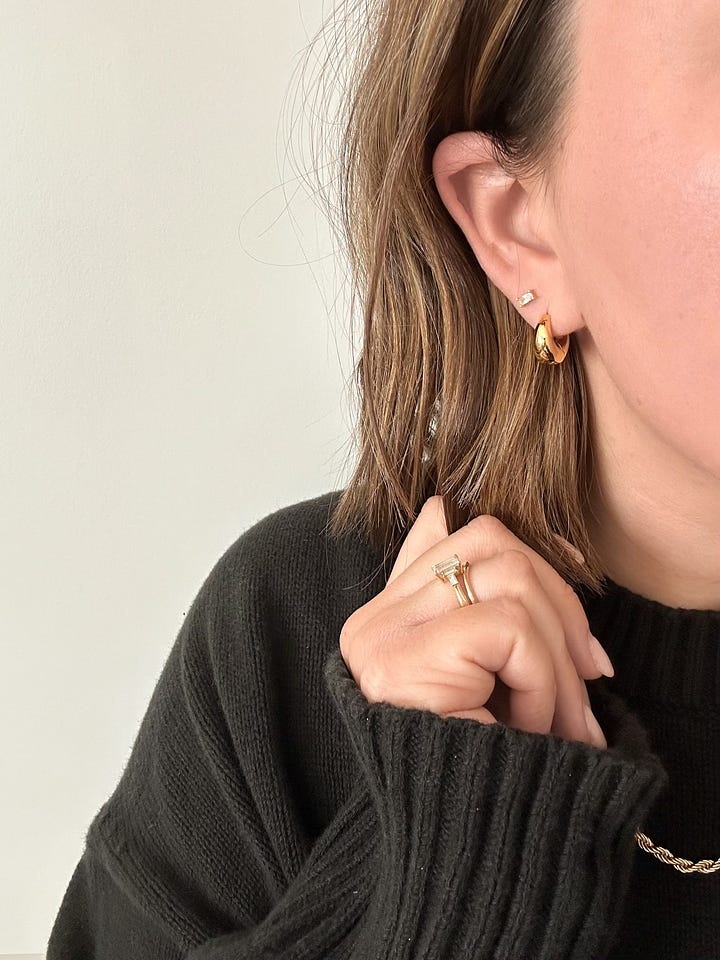 ---
OLIVE OIL CAKE (serves 8 to 10)
INGREDIENTS
1 ¾ cups (8 3/4 ounces) all-purpose flour

1 teaspoon baking powder

¾ teaspoon salt

3 large eggs

1 ¼ cups (8 3/4 ounces) plus 2 tablespoons sugar

¼ teaspoon grated lemon zest

¾ cup extra-virgin olive oil

¾ cup milk
INSTRUCTIONS
For the best flavor, use a fresh, high-quality extra-virgin olive oil. If your springform pan is prone to leaking, place a rimmed baking sheet on the oven floor to catch any drips. Leftover cake can be wrapped in plastic wrap and stored at room temperature for up to three days.
1. Adjust oven rack to middle position and heat oven to 350 degrees. Grease 9-inch springform pan. Whisk flour, baking powder and salt together in bowl.
2. Using stand mixer fitted with whisk attachment, whip eggs on medium speed until foamy, about 1 minute. Add 1¼ cups sugar and lemon zest, increase speed to high and whip until mixture is fluffy and pale yellow, about 3 minutes. Reduce speed to medium and, with mixer running, slowly pour in oil. Mix until oil is fully incorporated, about 1 minute. Add half of flour mixture and mix on low speed until incorporated, about 1 minute, scraping down bowl as needed. Add milk and mix until combined, about 30 seconds. Add remaining flour mixture and mix until just incorporated, about 1 minute, scraping down bowl as needed.
3. Transfer batter to prepared pan; sprinkle remaining 2 tablespoons sugar over entire surface. Bake until cake is deep golden brown and toothpick inserted in center comes out with few crumbs attached, 40 to 45 minutes. Transfer pan to wire rack and let cool for 15 minutes. Remove side of pan and let cake cool completely, about 1 1/2 hours. Cut into wedges and serve.